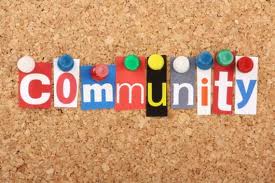 Beyond the school walls: engaging with the community
The Yellow Flag Programme has created a stimulus for us as a school community to reach out to the wider community in our locality and beyond.
We have connected with our local Traveller representatives in Louth Rosemarie and Bernard who will be supporting our curricular work by making a presentation about Traveller culture to the children in June.
We are also forging links with other relevant individuals and organisations to support our initiatives to promote interculturalism and anti-racism, such as
Challenge of Change officer Katerina Skrebska of the Peace III Southern Partnership;
Valerie Atherton of Drogheda Borough Council, who facilitated the participation of some of our African girls in a Soccer Sisters training camp;
Local Gaelic Football Club, Newtown Blues where middle and senior classes have commenced Gaelic training on Fridays
representatives of the Muslim community who addressed classes during Eid-il-Fitr;
local and national politicians who have visited our school to learn more about our Yellow Flag work, such as Ged Nash TD, Fergus O'Dowd, TD and Ruairi Quinn, now Minister for Education;
national organisations such as the Jesuit Refugee Service Ireland and children's charity Plan Ireland – our Diversity Committee member Sharon, aged 9, features in their "Because I am a Girl" radio campaign to raise awareness of children poverty and promote children's rights;
we have also invited local Church of Ireland school St. Peter's NS, Drogheda to participate in our Basketball Blitz which was a resounding success!
Our International Food Fair, kindly supported by Louth Leader Partnership, was another key intercultural event in our plan to forge links with the community, drawing big numbers to sample tasty fare from across the world!
St. Patrick's Day Parade – This was a huge success with 250 students, parents and teachers carrying Yellow Flag balloons and bunting as they marched in the parade behind Kieran Gallagher and his Samba band.
A leaflet drop in local estates Aston Village, Termon Abbey and Newtown Meadows to promote the school in the local community was very successful as was the open day which attracted very positive feedback from prospective parents, their children and other visitors. An advertisement was taken out in a local paper to advertise the school to our wider catchment area.
We enclose sample photos from our Basketball Blitz and St. Patrick's Day Parade, one of Sharon and Maria in the recording studios working on the Plan Ireland ad and a poem from the local paper which celebrates the diversity at our school.
No doubts, regular exercise and medications are playing on the minds of men all around the World. Today, pharmacy is the ideal way to order some medicines for any needs. Betweentimes people need medicaments to resolve sexual health problem. This article tell more about "http://schemeinf.com/". Are you intellection how to quest for medicines, such as Viagra, online? What is the most great information you have to discuss with you dispenser about "levitra online"? A medical research about "buying Levitra online" found that men's most common sexual problem is ED. Of course, for a lot of folk, bringing up the matter in the first place is the toughest step. Sometimes medic conditions or other medicines may interact with Viagra.