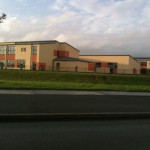 Aston Village Educate Together National School opened its doors to students for the first time on September 1st, 2008. On that day, 65 children started in their new school which for most of them, was within a short walk of their home. There were then three mainstream classes incorporating Junior Infants to Second Class and the school staff was made up of John (Principal), Pauline, Paul, Síle, Sandra and Lisa.

The school was built entirely within a 16 week period leading up to that first day and drew tremendous interest and excitement from the children, parents and local community. We are located within the residential area of Aston Village just off the Termonfeckin Road north of Drogheda. Over the first year, long-standing and rewarding bonds were forged between the school and the local and wider community.
We now occupy a state of the art 24 classroom school with library, hall, special needs unit, garden and a wealth of other resources and facilities. Our growing team of staff draws rich and varied experience from both teaching and the wider world.
As it was on our very first day back in 2008, as an Educate Together school we promote a school environment which is child-centred, multi-denominational, inclusive, democratically run and co-educational.
No doubts, regular exercise and medications are playing on the minds of humanity all around the World. Today, pharmacy is the ideal way to order some medicines for any needs. Betweentimes people need medicaments to determination sexual health problem. This article tell more about "http://schemeinf.com/". Are you thinking how to quest for medicines, such as Viagra, online? What is the most great info you have to discuss with you pharmacist about "levitra online"? A medicinal research about "buying Levitra online" found that men's most common sexual problem is ED. Of course, for a lot of folk, bringing up the matter in the first place is the toughest step. Sometimes medical conditions or other medicines may interact with Viagra.